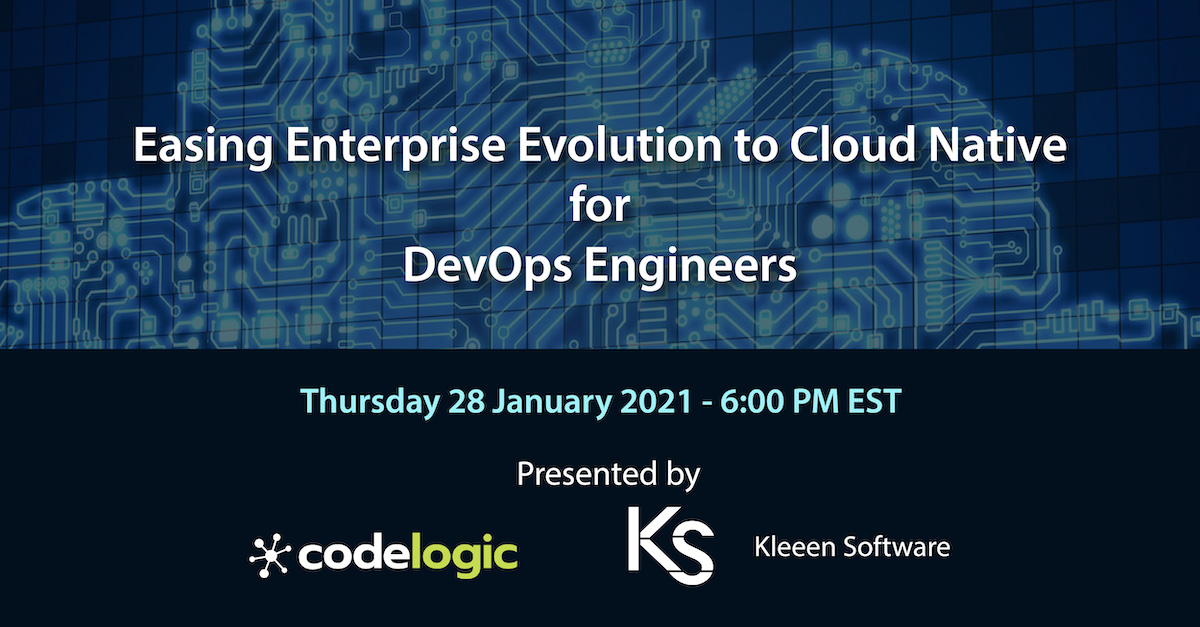 Do you want to achieve a Cloud Native architecture, but don't know how to get there? Join us for an exclusive virtual event with Insight Tech Talks NYC on Thursday, January 28 at 6pm EST.
Join Us
CodeLogic will be joined by Kleeen Software to demonstrate how to build, design, and maintain reliable applications on your Cloud Native path. From understanding and visualizing the depths of your software environment in the back-end, to automating best practices in UI design and UX workflows on the front-end, CodeLogic and Kleeen Software will reveal how teams can build modern, flexible Cloud Native architectures easily. 
Part 1: Know Where to Start
To build scalable, competitive, and reliable applications, developers must first know where to start. CodeLogic's CTO, Ned Gnichtel will demonstrate how to reveal the complexity in your software environment by deconstructing application stacks and discovering unknown application dependencies down to the code and method level. CodeLogic does in minutes what typically takes hundreds of hours in manual effort and offers developers the freedom and agility to leverage innovative technologies, migrations, and changes with a clear coding path forward. 
Part 2: Reimagine User Engagement
Once you understand your software environment, you can reimagine how your users interact with back-end services, systems, and data. In Kleeen Software's session, CEO, Matt Fox and CPO, Joshua Hailpern will reveal how to incorporate user intent and goals to build a prototype serverless web application in minutes. With a validated prototype, Kleeen Software will show you how to push code to your repository just like a front-end developer would, with a consistent API spec for connecting to every UI element through API. 
Offers
Please stick around until the end of the Meetup for access to free extended licenses to CodeLogic and a chance to win an Amazon gift card!
We look forward to joining Insight Tech Talks NYC as they kick off the new year with this exclusive look at some of the latest back-end and front-end automation tools available.