Is graph technology the right solution for your data? CodeLogic, formerly Crosscode, and Neo4j experts connect to discuss the value graph databases bring to businesses.
NODES 2020 Recap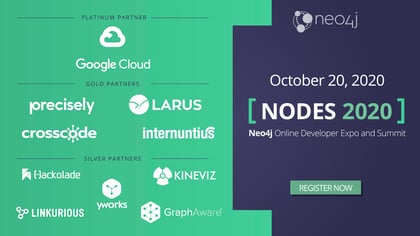 NODES: Neo4j's Online Developer Expo and Summit, is a one-day online event uniting thousands of developers with Neo4j experts in an effort to share key insights into graph databases. Sponsored by a handful of cutting-edge firms, the virtual conference invites participants to attend spotlight presentations, click into company branded booths to learn how they use graph databases, and speak with Neo4j experts and sponsors to discover the joint solutions they offer.
As a gold sponsor of NODES 2020, CodeLogic received a branded booth to engage one-on-one with attendees, answer questions, poll participants, and offer free trials and demos. Overall, the conference was a resounding success with 11 sponsors and over 12,000 registrants. CodeLogic's branded booth and presentation brought over 350 developers, business owners, and Neo4j experts together to discuss how CodeLogic can dynamically serve the developer community.
In case you missed our presentation...
Jonathan Gentsch and Robert Vrooman, two of CodeLogic's Senior Software Engineers, captivated the NODES 2020 audience with their presentation, highlighting how to easily transition your schema from applications based on traditional SQL-driven RDBMS to Neo4j graph database technology, with a dynamic-schema architecture and powerful Cypher query language. They discussed that as a result, you can achieve speeds, scalability and reliability that give you a 360-degree view of dependencies found across platforms, applications, databases, and APIs in real time. Check out the full video presentation below for insightful details from Jonathan and Robert and visit the NODES 2020 Content Hub to watch any sessions you missed.
The Value of CodeLogic and Neo4j
Neo4j's positive longstanding reputation and out-of-the-box graph database solutions help businesses achieve their innovation goals. Jonathan and Robert highlight that if your data is focused on relationships rather than properties, it might be wise to transition to a graph database. Using graph database technology, CodeLogic automatically maps and visualizes your applications and databases in real time so you can see your software dependencies clearly.
As code continues to grow in both complexity and size, developers are faced with increased software development challenges. When code breaks, developers are often stuck manually mapping software dependencies, which leads to technical debt, security breaches, and delays. CodeLogic is one out of over 500 startups that have joined Neo4j's Startup Program in an effort to increase our technology's speed, scalability and reliability. With our comprehensive dependency mapping analysis, we offer developers the freedom and agility to work with the most scalable and innovative technologies for any datasets.