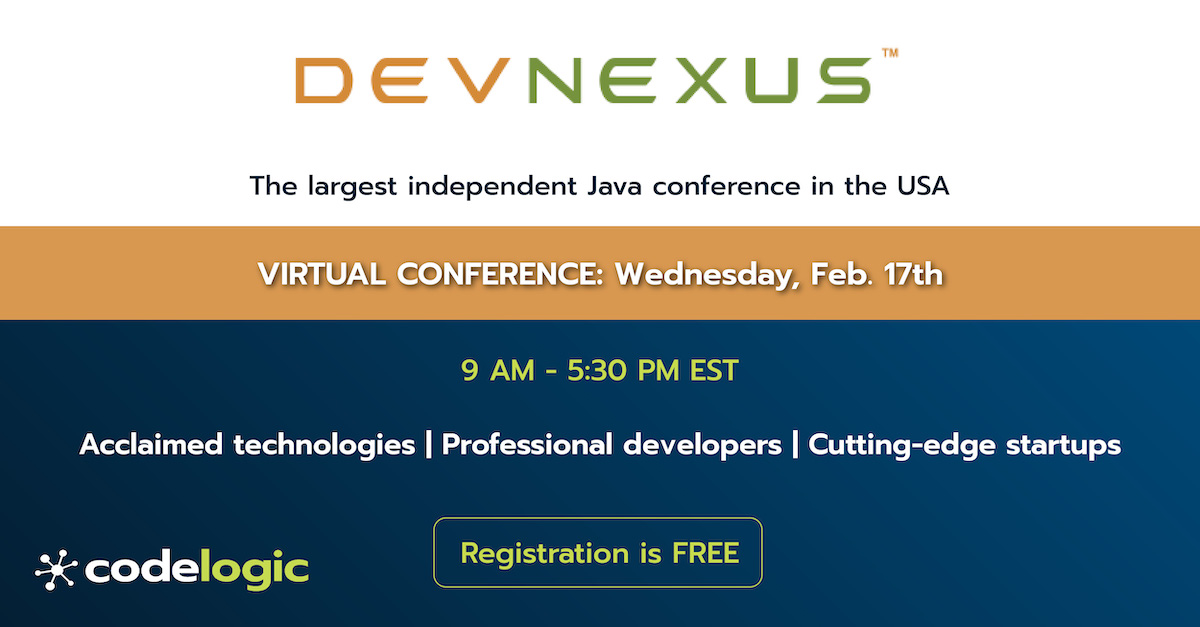 Have you registered for Devnexus 2021? Connect with like-minded developers, discover leading technologies, and listen to engaging technical talks at AJUG's one-day virtual conference.
Join Us
Join us on Wednesday, February 17 from 9am - 5:30pm EST for Devnexus - the largest independent Java conference in the US founded by the Atlanta Java Users Group. Connect with thousands of professional software developers and interact with acclaimed technologists in this one-day virtual conference. Devnexus will feature technical presentations from leading technology companies and sponsors, including IBM, Azure for Microsoft, JFrog, and Oracle.
Check out the full Devnexus sponsorship list and the 2020 recap video here. LeVar Burton, award-winning Actor, Director, and Producer will also be in attendance and will share a special keynote presentation, courtesy of IBM Developer. Register for Devnexus today - the conference is FREE to attend.
Stop By Our Booth
We're proud to announce that CodeLogic is a Silver Sponsor of Devnexus 2021. Stop by our virtual booth to say hello and learn how CodeLogic can help you and your business reveal the complexity in your software environment. Our Sales team will be available throughout the day to connect and answer questions about our cutting-edge comprehensive dependency mapping analysis software.
Set up a meeting with our team during the conference or schedule a personalized demo with our Technical Sales Engineers afterward, and we'll show you how CodeLogic can get your projects moving faster in just 30-60 days.
Offers
Don't wait to register! CodeLogic is pleased to offer Devnexus attendees a chance to sign up for free extended licenses to CodeLogic and receive free, personalized demos for your organization. We look forward to showing you how CodeLogic helps development teams of every size improve the quality, agility, and security of their applications.
Register today and see the full speaking schedule. We'll see you on February 17th!