With our latest release, we are pleased to add Applications as a formal concept in our solution. Now teams can quickly and easily group assets belonging to an application, together. This release also introduces a new Relationship Report.
Applications
The application binaries and databases that our users scan, usually relate to one another and form larger Applications. Now you can group those top-level scan items into Apps - cleaning up and organizing the dependency view.
At CodeLogic, we love accuracy and truth. In the case of Applications, we're turning control back over to you to tell the tool how your teams understand the assets. Items in one application can certainly relate to items in another - perhaps an application is reaching directly into another's database.
Bits & Bytes
We'll reflect that relationship at the bits and bytes level. You can decide if that discovered relationship should be considered a cross-application relationship, or if the database is a member of multiple apps. A single scanned item can be assigned to multiple Applications.
Assign scanned items to Applications by dragging them onto an App or updating your scanning configuration to declare the relationship there.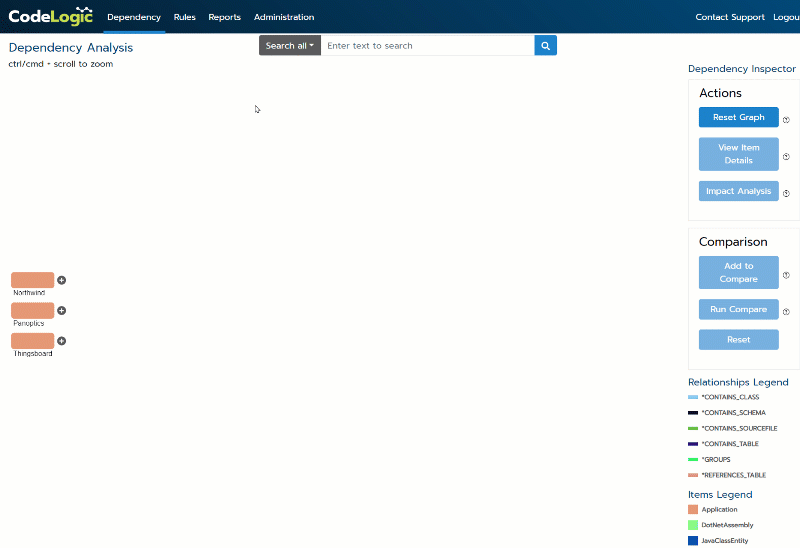 Relationship Report
CodeLogic 21.18 introduces our first Report, the Relationship Report. You will find it under the new header of Reports. With the Relationship Report, teams can quickly look up every instance of a type of relationship a given application has.
Find a foreign key issue that is causing a performance problem? Immediately get a list of every foreign key reference in your application.
Looking to migrate from one database platform to another and need to know what code touches the database?
Pull up a list of every method that touches a database column.
Want to see what outbound API calls your application is making?
Look up all your endpoint invocations.
We know these reports often turn into to-do lists. To make it easier to migrate this information into a work tracking tool or a spreadsheet, we provide a simple export capability to generate a CSV file.